Join our email newsletter here

American Bulldog Puppies For Sale – Accepting deposits


ACCEPTING DEPOSITS:
October 7th, 2021 litter (Updated 11/20/2021)
Video of 6 males at 6 weeks old – call 626-487-5523 for availability

Jan 2022 litter (Updated 10/18/2021)
About Grand Future – American Bulldog Kennel
Our relationships with our owners start when they pick up their American Bulldog puppy from us, rather than ending there. American Bulldog breeder since 2000, Grand Future Kennel, based in Las Vegas, Nevada, and Los Angeles, California, is home to 13 Grand Champions and 35 Champions spanning 9 countries. We specialize in Bully-type, also sometimes referred to as Johnson American Bulldogs. However on occasion we do produce fantastic standard- and hybrid-type American Bulldogs.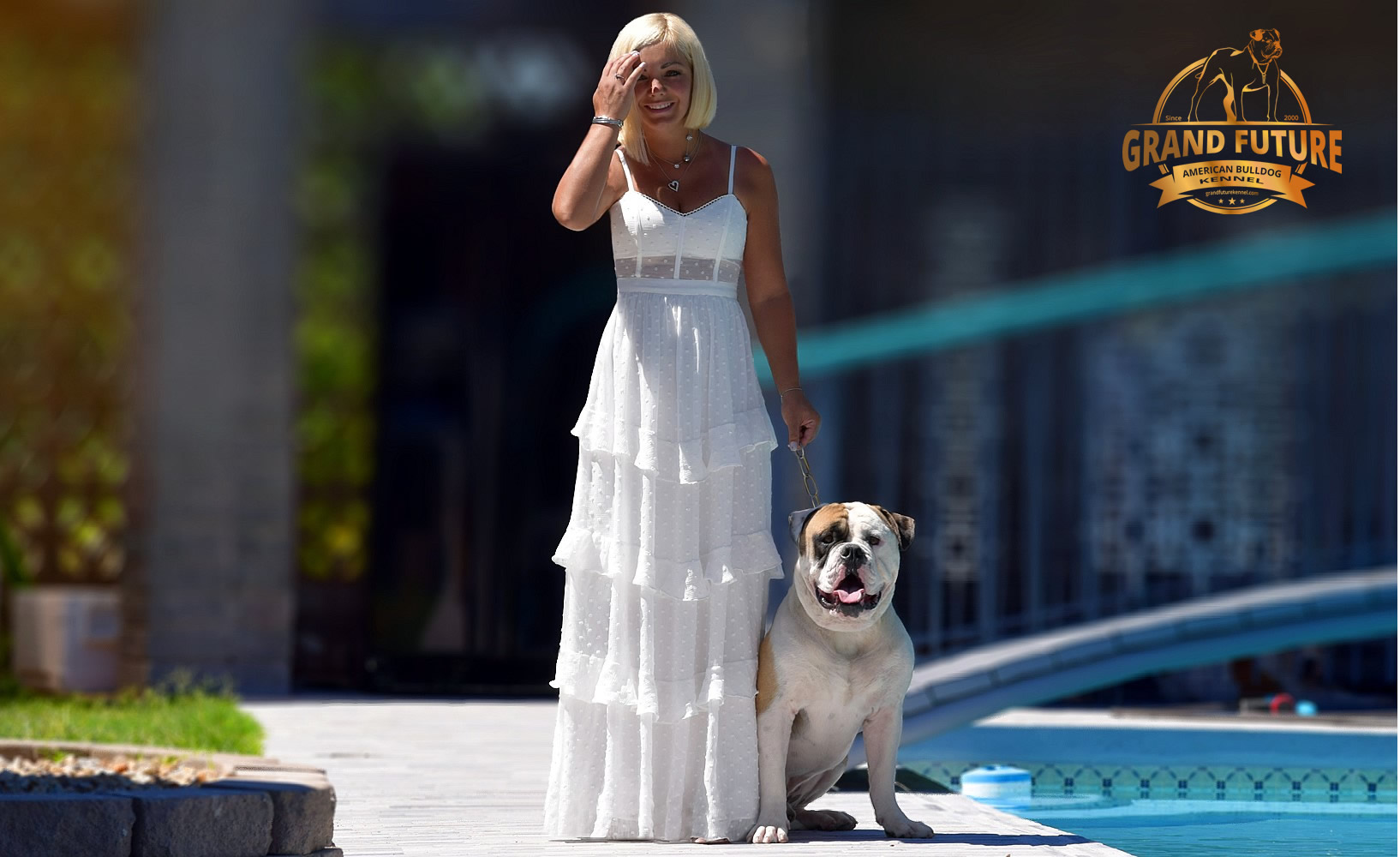 Our purebred American Bulldogs have been successfully trained and certified in defense and obedience. We breed for functional and balanced temperament allowing for the American Bulldog to be a family member and a companion while having the drive and intelligence to perform desired functions. At Grand Future, we typically produce large American Bulldogs. Males range in 100-130 lbs and females range in 90-120 lbs.
Grand Future Kennel is registered with FCI (Fédération Cynologique Internationale) and ABF (American Bulldog Federation – 501c3 non-profit).  We have always bred to a significantly stricter breed standard than the current American Bulldog breed standards under U.S.-based registries. Dogs with the following characteristics are not shown at conformation shows nor bred in our kennel:
1. Full black mask – this genetic trait is usually a result of another breed having been infused into the gene pool.
2. Kinked tail – this is considered to be a genetic defect of the spine and it may adversely affect the given dog's offspring's health. Usually a dog with a kinked tail itself is not at risk of health complications as a result of the kinked tail.
3. Blue eye(s) – a genetic mutation with possible health consequences and/or a genetic trait that is a result of another breed having been infused.
4. Coat colors other than white, white/brindle, or white/red – any colors beside these is usually a sure sign that another breed was infused into the gene pool.
5. Teeth – dogs missing more than 3 teeth.
6. Lack of skin pigmentation – pigment affects the overall health / immune system of the dog. Dogs lacking full pigmentation are more susceptible to various health problems. Lack of pigment is also responsible for deafness in dogs. We have never produced a deaf dog.
Interested in a puppy? Leave your phone number and we will contact you
We are proud of the dogs we produce. We have many repeat buyers – over 30 families have purchased 2,3,4, and even 5 dogs. Our dogs generally love children and have balanced temperament.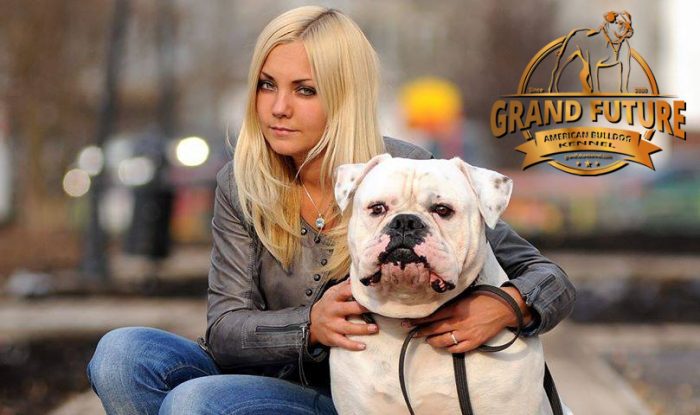 We have always worked with diligence to improve our line of American Bulldogs.
Having produced over 600 dogs in 7 generations, we have history and data that allows us to make some conclusions that we believe are significant.
1. The very common problem of hip dysplasia that afflicts this breed is nearly non-existent in our kennel.
2. Our dogs tend to have normal locomotion – good movement due to anatomically sound physical structure.
3. Our dogs have never torn ligaments such as the Canine Cruciate Ligament (CCL), which leads us to conclude that such problems are likely hereditary in nature.
4. Our dogs have never prematurely died from heart problems, which leads us to conclude that such problems are likely hereditary in nature.
5. Our dogs have never been diagnosed with tracheal hypoplasia – a hereditary genetic defect common in bulldog breeds that leads to potential deadly obstruction of the airway.
6. Our dogs tend to live long. Our foundation dog lived to the age of 15 years and 10 months old.
7. Our dogs have never been afflicted with cancer at a young age. The earliest instance of cancer has been encountered at 8 years of age by one dog. The remainder of cases have been documented at over 10 years of age.
We don't cut corners.
The biggest tragedy for an owner is in having to care for a sick dog as a result of poor breeding, and be absolutely helpless as that dog passes in their arms. Exorbitant medical bills end up being paid to prolong the time together even by just a little with the beloved family member.
As with any animal breeding program, our kennel is not immune from problems. The owners' happiness with our dogs is paramount to us. We resolve any occasional problems that do arise to the owner's satisfaction because we take pride in what we do, and we do it really well.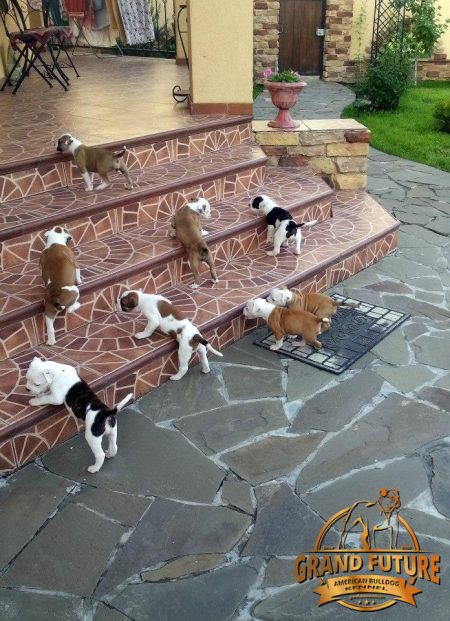 Hearing the "Thank you!"s from owners of our dogs after years or even a lifetime is the greatest gift of all. This drives us to continually improve. We maintain contact and help our owners in any way we can; even at 4AM or during a vacation since we have owners all over the world in various timezones.
Our breeding expertise enables us to deliver healthy, beautiful, strong, and intelligent American Bulldog puppies. We provide a contractual health guarantee against the following genetic health problems – hip dysplasia, elbow dysplasia, Canine Cruciate Ligament (CCL) ruptures, cataracts, entropion, ectropion, heart, kidneys, thyroid, ichthyosis, cryptorchidism, epilepsy, and any neurological disorders including NCL.
Our conversation with a prospective owner always involves questions to understand the kind of dog the person would like – the more details the better. If so inclined, the prospective owner can request guidance in picking the puppy based on personality and activity level, temperament, phenotype, and more.
We evaluate our puppies at 6 weeks of age on a variety of parameters.
Price of puppies usually ranges from $4,000 to $10,000. A $2000 deposit is required to reserve a puppy. We provide lifetime unlimited advice and guidance by phone to owners concerning all subjects relating to dog ownership. Obedience / Protection training starts at $3,000/month. You can be sure you will have the information you need to succeed even if this is going to be your first American Bulldog puppy.
Whether you're looking for a fantastic pet, working dog, or a show dog, let our expertise serve you. Because we stand by the quality of our work, we want our owners to participate in our breeding program and we are happy to provide the necessary guidance. Our dogs are also ideal candidates for service animal work. Training a service dog requires a significant investment of time and money, making the genetic health and temperament of the dog even more critical. A service dog needs to be healthy, hassle-free, intelligent and receptive to training, have stable temperament to handle any type of environment, and of course lead a long life disease-free. All of these selective requirements for service dog candidates make Grand Future American Bulldogs an ideal fit.
Join us in our mission of producing the best American Bulldogs possible!
Professional worry-free shipping worldwide
Of course our preference is for you to come visit our home, get acquainted with us, and pick up your new American Bulldog puppy in person. However, we understand that it is not feasible for everyone.
Even if you do not live anywhere near Nevada, do not be concerned – we are highly experienced at shipping our American Bulldog puppies worldwide, as even just the list of our Grand Champions and Champions spanning 9 nations attests. We can prepare all necessary export documentation.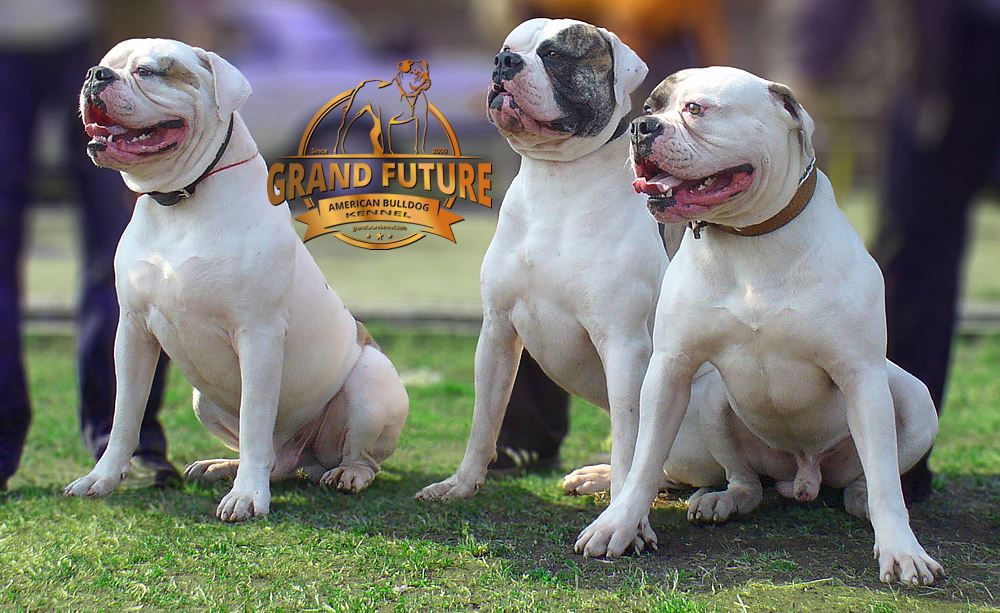 Shipping domestically includes the following and all other locations that can be reached via a direct flight or ground transport:
Alabama, AL; Alaska, AK; Arizona, AZ; Arkansas, AR; California , CA; Colorado, CO; Connecticut, CT; Delaware, DE; Florida, FL; Georgia, GA; Hawaii, HI; Idaho, ID; Illinois, IL; Indiana, IN; Iowa, IA; Kansas, KS; Kentucky, KY; Louisiana, LA; Maine, ME; Maryland, MD; Massachusetts, MA; Michigan, MI; Minnesota, MN; Mississippi, MS; Missouri, MO; Montana, MT; Nebraska, NE; Nevada, NV; New Hampshire, NH; New Jersey, NJ; New Mexico, NM; New York, NY; North Carolina, NC; North Dakota, ND; Ohio, OH; Oklahoma, OK; Oregon, OR; Pennsylvania, PA; Rhode Island, RI; South Carolina, SC; South Dakota, SD; Tennessee, TN; Texas, TX; Utah, UT; Vermont, VT; Virginia , VA; Washington, WA; West Virginia, WV; Wisconsin, WI; Wyoming, WY as well as of Canada: Vancouver, Toronto, Montreal, and Quebec.
American Bulldogs produced by Grand Future Kennel already reside in all of the following locations:
United States (Los Angeles, Orange County, Las Vegas, Scottsdale, Austin, Indianapolis, New York, Miami, Redwood City, South Carolina, North Carolina, Georgia, Kansas, Sacramento, San Francisco, Oregon, Michigan, Mississippi, Utah), Israel, Netherlands, Hungary, Estonia, Latvia, Russia, Belarus, Bulgaria, Ukraine, Finland, Kazakhstan, Uzbekistan, Kyrgyzstan, Georgia, Cyprus, Czech Republic, and even Kuwait – United Arab Emirates (UAE)!